…Everything you always wanted to know. Just not about me, necessarily. For the serious stuff, skip back a page, or click on Voodoo's picture…
WARNING!
<![if !vml]>

<![endif]>
CLICK ME!
Every picture tells a story…
<![if !vml]>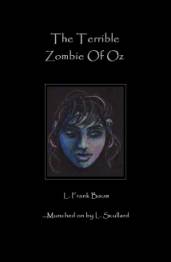 <![endif]>
PHOTO AVATAR TOP TRUMPS
Jukebox
Latest News
Authonomy Links
Short Story: The Kill Fee
Jump to original Screen Kiss site
Flash Fiction
Your Name Here - Got A Blog To Plug?
>PHOTO AVATAR TOP TRUMPS<
<![if !vml]>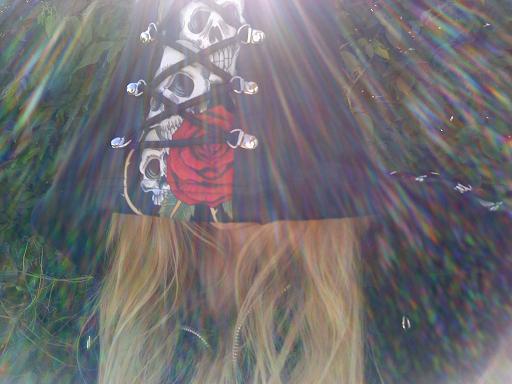 <![endif]>
Photo © Lisa Scullard, 2010
Avatar #1: Voodoo Spice
Strength: 8
Skills: 9
Intelligence: 10
Luck: 9
Life Points: 2
Originally a back-up idea for if I ever wanted an online pseudonym or pen-name to maintain my own privacy. As you might guess, picked the nickname at around the time of the Spiceworld craze, out of the alternative music and image side I enjoyed the most while living in London and Hastings - hanging out with folks, going to the proper places for tats, getting pierced, for live music, and falling over. Have always had a voodoo fixation since the first ever Bond film I saw on TV as a kid was Live And Let Die J
But then, rather like a literary character with no storyline yet, it started looking for things to do by itself…
Voodoo turns up out of the blue once every couple of years, fortunately in activity by name only so far in the realms of the internet. Its job, as it turned out, is to watch people and observe behaviour. Including mine. Occasionally documents these observations, noting anything erratic (or illegal). Reports as such if appropriate. (Hello, FB). A cross between a vigilante and a saboteur. Not sure what triggers it - most likely a warning sign for me that I'm about to be influenced by something new, and sends out the advance reconnoitre to assess the situation.
Voodoo Spice is a means of digging stuff up from my own subconscious (rather like raising zombies from the dead in actual voodoo, you might say). Every so often it wakes up and starts poking around in new stuff to see how I react - the process being fractal pattern-matching in response to external stimuli.
Where the potential for outcomes and responses is infinite, it's a filter I've learned to use which determines whether a reaction is formed out of psychosis (imagined pattern-matching), hormones (adrenalin, PMS), logic (based in science or fact), transference (projected or implanted assumptions, e.g. from stereotype or information overload such as the media, or fictional portrayal), empathy (basic human nature or needs), or personal experience (past actual events). It's not a parallel personality, or my "Jordan" or "Ginger Spice". It's like having a personal AVG Security or Norton Antivirus software programme. Useful thing to have installed after surgery-induced psychosis. Scanning for threats J
However, having a Voodoo with a sense of humour is another matter. Frequently it sends responses to the wrong receptors or pattern-matches in my brain, completely aware, deliberately mixing up the messages in order to either change the subject, or change a person's mood to a humorous one.
You don't need me to tell you how useful that was as a skill when I worked as a nightclub door supervisor.
Main preoccupation: Personality monitoring, in a fractals concept.
Acts as: Information filtering and analysing device, multi-tasking.
Safety features: Health & Safety certified, First Aid certified J
Collects: Barbie Dolls, books, and shoes (preferably T.U.K. and Iron Fist).
Listens to: White Zombie, Fear Factory, Rage Against The Machine, Daft Punk, Chemical Brothers.
Drinks: Won't let me J
Social life: Not applicable - observations only.
<![if !vml]>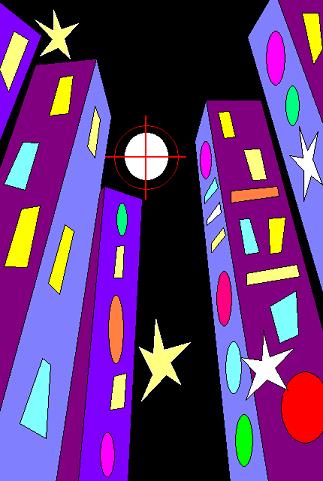 <![endif]>
Artwork "Death And The City" © Lisa Scullard
Avatar #2: DEATH AND THE CITY
Strength: 10
Skills: 7
Intelligence: 9
Luck: 10
Life Points: 9
            Death And The City. Everything you always wanted to know about nightclub bouncers, but were too intimidated to ask. Fiction/Humour (Complete).
Could be described as Bladerunner meets Bridget Jones. One way of killing time while waiting for Mr. Right - just hope he's not your next target on the hit-list. Or your new work partner, for that matter.
Sequels in progress. Along with a possible voodoo theme. Zombies are definitely mentioned - just not in the way you'd expect…
Read the first six chapters online here:
http://www.authonomy.com/books/23560/death-and-the-city/read-book/#chapter
<![if !vml]>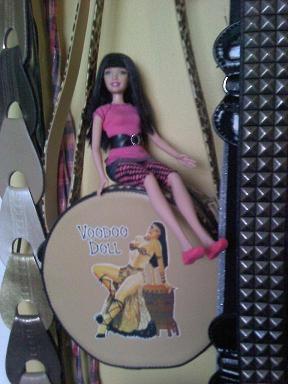 <![endif]>
Photo © Lisa…
Avatar #3: Revenge Of The Voodoo Doll
Strength: 1
Skills: 3
Intelligence: 0
Luck: 10
Life Points: 2
Doll keeps Voodoo from trying out any actual voodoo. It's true. I went for surgery, and one of my doll's heads fell off J
Doll was also very handy to hide behind when I paid a visit to FB a long while back on one of Voodoo's security test missions (I don't know why or what, but something turned up that set it off), along with Catwoman Doll and Lara Croft Doll. But mostly they're just distractions for my creative musings when I want to try out a clothing design or develop a character visually.
Main preoccupation: Sitting quietly in the corner looking pretty.
Acts as: Model and muse.
Safety features: Not suitable for children under 36 months.
Collects: Dust, while I'm not looking.
Listens to: The echoes inside her head.
Drinks: Teetotal.
Social life: Awesome. More toys than Toy Story to play with.
<![if !vml]>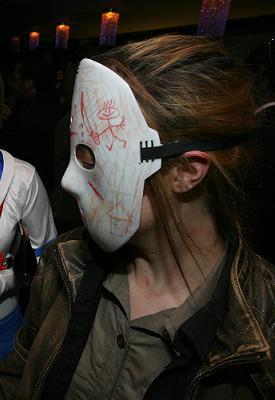 <![endif]>
Photo © Jason Kay for Ocean & Collins nightclub
Avatar #4: Hockey Masquerade Jukebox
Strength: 10
Skills: 9
Intelligence: 4 (Less, allegedly, if you saw Jason X)
Luck: 1
Life Points: 10
Hockey Mask has made regular outings at Halloween and birthdays, accompanied by anything from Jason Vorheese overalls, to random red hooded cape, to Samurai Schoolgirl outfit. My favourite fancy-dress item, because I don't have to think about my face J
There's a story behind my attachment to masks. I'll post it here maybe next time…
…Yes, it probably is as disturbing as the rest of this stuff - but never mind, you're not me J
Main preoccupation: Not being recognised as door staff on a night out.
Acts as: Disguise and deterrent.
Safety features: Air-holes and elastic strap - comfy!
Collects: Nervous glances and bizarre compliments.
Listens to: Whatever's playing in the club, and the words "You look scary!"
Drinks: Through a straw, of course.
Social life: Surprisingly, yes. More often than when left at home…
<![if !vml]>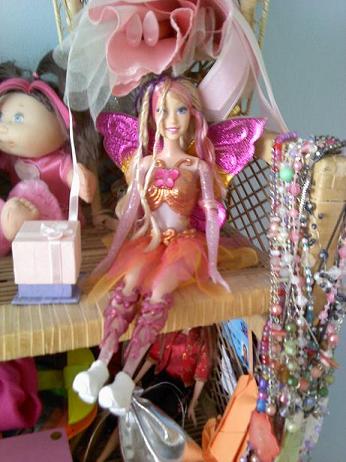 <![endif]>
Photo © Lisa…
Avatar #5: Christmas Tree Fairy
…And now for something completely different. Spot the evidence in this photograph. You might have to do a bit of Bladerunner-style detective work.
If you give up, or just want to cheat, click on it.
<![if !vml]>

<![endif]>
You've all signed it – make sure you read about it above.
<![if !vml]>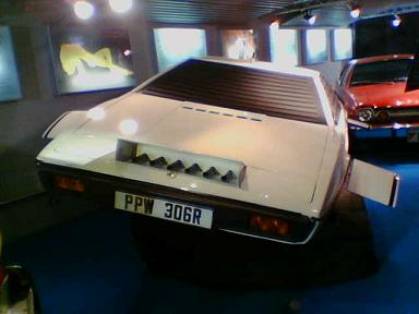 <![endif]>
Photo © Lisa Scullard - Bond Cars @ Beaulieu Motor Museum Exhibit
Avatar #6: Custom Cars
Strength: 10
Skills: 10
Intelligence: 10
Luck: 9
Life Points: 6 (Would be higher, except for Bond's reputation for breaking them)
As Death And The City has been compared to "James Bond meets American Psycho", it's only fair to acknowledge one of the greatest espionage storytellers of the 20th Century. The films of Ian Fleming's James Bond creation brought science-fiction technology into contemporary storylines, creating the first action hero to have designer hardware made-to-measure. In Death And The City, the scenario goes back to the pre-drawing-board, with junkyard parts, and vehicles repossessed from the bad guys cannibalised for spares - and their mistakes in design uncovered along the way. Was a great way to exercise my mechanical engineering and physics interests developed through time studying at Merton Technical College, The Open University, and the University of Southampton Physics & Engineering department.
While at UoS, I started Screen Kiss Scrapbook, before the advent of camera-phones and the FB phenomenon, so my classmates could share fun pictures with family and friends back home or abroad by directing them to my website. You can find the original link to it on this website with a bit of detective work, by reading the company director history, and looking for the word 'University' in the text as a hyperlink.
Colin Adams, who designed the main website site for me, utilised auto-scrolling arrows next to the text. Just move the mouse cursor over the up or down arrow to move the text, without needing a side-navigation bar. You'll find on those pages that the Page Up/Down keys are redundant.
…The internet, communications technology and social networking being just another of the contemporary influences in Death And The City J
However, I've only just started reading American Psycho…
<![if !vml]>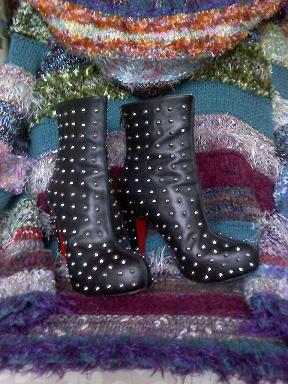 <![endif]>
Photo & Hoody © Lisa S. (boots by Louboutin)
Avatar #7: Voodoo Knitting
Strength: 6
Skills: 10
Intelligence: 5.5
Luck: 8
Life Points: 9
Voodoo Knitting* is the best use of needles which would otherwise be abused in some misguided form. Voodoo particularly likes knitting hoodies, after micro-knitting for Voodoo Dolls, for some reason. Hoodies have to have a big hood to hide under and be large enough to double as a dressing gown on a chilly winter morning.
Combined with Voodoo's punk or zombie shoes, knitted hoodies create more than just a little bit of a quirky appearance, especially if worn to the supermarket. Hoods are not to be worn up in public, allegedly. Except if it is actually raining or snowing.
*Not to be confused with "Goblin Knitting" (Goblins Of The Labyrinth, Brian Froud & Terry Jones, ISBN-10: 0810970554 / ISBN-13: 978-0810970557)
N.B. Hood is not a substitute for a cycle helmet. Remove before washing (counts for washing both yourself, and the hoody). One size fits all - but not "all at the same time". Not to be taken internally…
<![if !vml]>
<![endif]>
Photo © Lisa Scullard (again… I see a pattern emerging…)
Avatar #8: Lisa S.
Strength: 7
Skills: 8
Intelligence: Variable, depending on subject matter
Luck: 4.5
Life Points: 10
Lisa's job is to keep Voodoo Spice preoccupied (see http://voodoo-spice.blogspot.com for the latest distraction tactic), so that Voodoo does not try to do any voodoo, enter any kind of literary career, or take up any social activity under its own name. Apparently Voodoo likes pyromania (from a distance, on Fireworks Night), breeds vampire dictionaries (designed to be kept chained to a good solid oak desk), and zombie or skull designer clothing. Apart from that, and knitting, it is avoiding any kind of anthropomorphism at all costs. Sometimes to be found in the garden, accidentally growing things and then having to cut them down again, or taking pictures, badly. Probably on purpose.
<![if !vml]>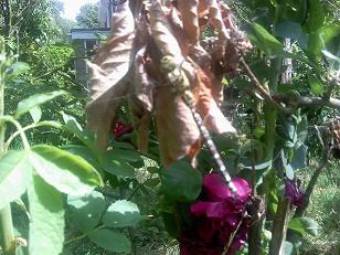 <![endif]>
(Successfully stalks huge dragonfly in the garden - just marvel at the detail in the background, LOL)
Lisa has other priorities. Trying not to do anything that involves a waste of the imagination. Like, having paranoid or romantic delusions, or a life plan. Just feeling lucky to have any life at all. And to have saved a few lives, in some messy nightclub incidents. All this sensible staying-in-the-present-moment behaviour, along with not eating too much cheese, gives Voodoo more time to allow for knitting, and the garden. (And looking at shoes, of course – although I don't own that many pairs of feet…)
Main preoccupation: Writing for entertainment. Primary genre - humour.
Acts as: Functioning human, single holiday-romance parent.
Safety features: Always looks before leaping (learned from experience!).
Collects: Ideas, inspiration, useful scientific or medical knowledge.
Listens to: Most qualified advice, all types of music.
Drinks: Tea, coffee, water, diet fizzy pop.
Social life: What's that…? Got nothing to talk about yet J
…Apparently, though, it's traditional that I do have something to talk about here, as it's my blog page and that's what writers do with glorious open white spaces of our own to exploit. So I will get back to you if I think of anything to say. Or accidentally research anything new.
It is possibly worth pointing out that I mostly occupy a world of my own, just in case you've read this far and not figured that out yet, and nothing I say personally or opinion-wise will change your life or have an impact on the rest of the world.
I am mostly wondering today whether the myth of the writer's makeover still exists, and what image-mongers would make of me to promote a commercially marketable image. There is certainly the raw potential – it's just rounding it all up and getting it to stand still wearing a polo-necked jumper, cuddling a puppy and looking academic and wistful for a dust-jacket photograph.
I think I will be mentioning 'Slipknot' and 'Marilyn Manson' once or twice in that meeting… while I'm pretty certain on the other side of the table they'll be trying to work out what to write in the bio under said photograph, that doesn't include anything actually about me, as on this site…
But that's cool, because I always wanted to be one of those "Invisible Authors" J But then Voodoo also wants to be an Invisible Pseudonym, so this is going to be interesting to watch.
I have been looking at grey cardigans recently. I think they exist only for the purpose of promotional author photographs – like those hats that exist only for weddings.
* * *
Don't forget to check back in for random old and new tunes on the Hockey Masquerade Jukebox (Avatar #4) J
<![if !vml]>

<![endif]>
NOW PLAYING: WHITE ZOMBIE "More Human Than Human"
PREVIOUSLY: LIMP BIZKIT "Rollin"
<![if !vml]>

<![endif]>
Top of page: PUDDLE OF MUDD "Psycho"
Avatar #3: Classic PUDDLE OF MUDD "Blurry"
Avatar #8: THE CARDIGANS "Erase/Rewind"
Also worth stopping by: KERRANG RADIO
* * *
Latest news: "The Terrible Zombie Of Oz" was unleashed worldwide in paperback and eBook in February 2011 – available on Amazon, Barnes & Noble, and Createspace. It's a mash-up of the original by L. Frank Baum, and the first of a series inspired by the author.
The Voodoo Reviews are ongoing – check out Voodoo Spice's music page on Blogger and the blog posts on MySpace J First up is TR0UBLE07 … very cool too. Also reviews now up for Shalini Boland, Raffertie, and the latest album by Faithless.
Really into my new day job still! J
Entered my first ever novel, Living Hell, written in 1990, into the Terry Pratchett/Transworld novel competition (closing date 31st December 2010, details on http://www.terrypratchett.co.uk/news/termsandconditions.html). If it doesn't make it through, it'll be joining Terrible Zombie on my now published bookshelf.
Death And The City is currently being published, just the proof-reads and edits to do...
I've had this email address for 12 years, and believe me, there is no new spam on this Earth that you can possibly distract me with. I am the Simon Cowell of your spam. In fact, my email address has been spoofed so many times, it's usually from me anyway…
* * *
Authonomy profile:
http://www.authonomy.com/writing-community/profile/e5bbdc8a-07e7-45d6-824b-491412db1fd1/lisa-scullard/
Interview with me on the Authonomy blog - first showcased authonomer:
http://blog.authonomy.com/2010/08/authonomy.html
…Find me in the 'blog cloud' of names if you are lost when you arrive J
Recommended read on Authonomy at the moment - check out Jenny Barber's "Taurus" (sci-fi/fantasy action adventure):
http://www.authonomy.com/books/23339/taurus/read-book/#chapter
Random Logline Generator:
http://www.lifeformz.com/cgi-bin/idea/idea.fcgi - just for fun! J
* * *
<![if !vml]>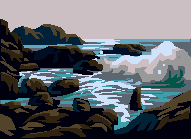 <![endif]>
THE KILL FEE: A Short Story
(My entry into the Waterstones/Pan-Mac competition earlier this year)
© Lisa Scullard 2010
The only problem with having got your sea-legs sorted out after several weeks at sea, is getting your land-legs back once you hit dry land.
"Ooh," a sympathetic voice greeted Jorge, muffled by the rainwater in his ear canal. "You all right, matey boy?"
He looked up to see yellow sou'wester trousers worn grubby at the knees, no doubt from kneeling down on the ground repeatedly and helping visitors to this Godforsaken place get to their feet again the minute they arrived.
"Bit giddy," he spluttered.
It was something Jorge hadn't accounted for in his overall plan. The idea in his head had been a fast turnaround, leave on the same ship after unloading having completed his errand. But as soon as the ship hit open water he knew he was in deeper than he planned for - and the irony of that metaphor was pretty much all of his private entertainment for the duration of the trip.
He spent seven days throwing up and then six days lying down, and with variation in number of days, followed this in a repeat pattern until the day he joined the crew for some toast and a cautious baked potato, wasn't sick and walked back to his cabin feeling quite proud of himself that he didn't have to stop every few yards, curl up into a ball and groan.
So by the time the delivery ship reached Tristan da Cunha, he had jogged the length of the accessible deck and back three times a day, building up his strength again and stimulating his brain with Sudoku. He'd rehearsed the plan over and over in his mind, like a skilled gymnast. Get in fast, get out fast. It didn't even matter that the day they arrived, it was raining. He'd done a bit of research. Knew it was likely.
But as soon as he set foot on the ground, it all fell down. In fact it was him that fell down, the world falling down was a psycho-physiological illusion caused by the over-compensation in balance he had acclimatized himself to on board ship. But it was the plan shattering around his ears that he was most aware of as a consequence of falling down. As he lay dazed on the dock, rain gently filling his right ear and the rather limpid view of Tristan da Cunha rolling around him like an off-centre gyroscope, he was aware of recalling the mild foreboding of a few months ago that he had brushed aside in view of the potential rewards the completed errand would provide. That overlooked feeling of unease was now reinstated as a full-blown Sense of Impending Doom.
It should have been Geneva. It should have been Monaco. It should even have been Las Vegas. There should be sun, and sports cars, and Latino girls with exposed gym-honed midriffs sporting navel rings… Rio. That's where his next job should have taken him. He'd thought about it every time he had another rendezvous in an alley next to a kebab shop. But his first international assignment had brought him… here.
Tristan da Cunha. Ha de bloody ha ha.
He hadn't even earned enough yet to have a proper hit-man's holiday. There was a seat in a lap-dancing bar somewhere in Thailand with his name on. And yet he'd leapt at the chance of this stupid job. The pay reflected the challenge, he'd been assured. That seat was now a V.I.P. suite in his mind, if he succeeded.
The yellow sou'wester trousers did indeed kneel down, perfectly aligning the grubby worn patches with the ground, and a cheerful Oriental face lowered to beam at him from under a yellow sou'wester hat.
She looked just like an angel.
Admittedly, the kind of angel he usually imagined sporting a bikini made of ping-pong balls and a glittery ostrich-feather boa. But after weeks at sea with his brain fiercely focused on Sudoku, the plan, and keeping his dinner down, seeing her here in high-visibility waterproofs made him wonder if perhaps the ship had foundered and it was just a wet day in Heaven.
"Welcome to Tristan da Cunha," she smiled, interrupting his hopeful search for pearly gates through the drizzle through which she would escort him to everlasting bliss. "Are you looking for the pub? You look like you could use a drink. Help the rest of you catch up to how drunk your legs are behaving."
"Pub?" he repeated. "Do they have pubs in Heaven?"
"Hmmm," she mused, patting his shoulder as she appeared to think seriously about it. "That's quite a philosophical question. Funny, because it's the kind of thing people living here wonder all the time. Because, you see, we only have the one."
She grabbed him firmly under the elbows and heaved him to his feet.
"You should fit right in, thinking like that," she reassured him, brushing him down briskly and straightening his collar. "It's over that way, just follow the signpost. If you're still there later I'll see you at the bar. Tell Marjorie that you're putting one in the wood for Jai Lee."
"Excuse me?" Jorge said a little hoarsely, as she headed away.
"You're buying me a drink for when I finish. Just ask for my usual." She tilted her yellow plastic hat and waved. "Later."
"Er…" Jorge raised his hand as if to stop and ask her something, then changed his mind and turned it into a feeble wave. "Yeah - later, I guess…"
Confused, he turned around and headed inland. But not too quickly, in case he inadvertently wandered off the other side while collecting his thoughts.
The pub. Yes. That was how the old school did business, anyway. He was sure he had vague memories of them from childhood - big, overbearing, balding, imposing figures in blue jeans and leather bomber jackets, sporting a lot of gold knuckleduster jewellery. They'd be sat in the Saloon side of the bar, or Snug, on a tan leather padded seat moulded to the exact shape of the rear of their Levi's. Often tattooed, and smoking cigars, while a blonde bosomy bimbo in yesterday's make-up pestered them for cigarette money or gin with orange squash. They ate cheese and onion crisps with a pickled egg in, or pork scratchings. That was an old-school hit-man. Those were the days to have lived in.
Jorge caught sight of his own reflection in the pub window as he approached, glad to find his legs starting to learn to carry him in the general direction he wanted to go. It had taken him five attempts to get off the dock at the right exit. Twice he nearly ended up back in the sea. He had his usual slight sinking feeling at the sight of himself, one too familiar to be further sea-leg symptoms. Tall and lanky with tousled hair, denim jacket and a college football shirt that he was sure still had evidence of his first attempt eating toast at sea on it, he didn't fill the silhouette he wanted to, in his dreams. But it was actions, he assured himself, not image, that gets the job done these days.
"Ah, greetings, new fish," the landlady hailed him as he lurched towards the bar. There was only one other occupant. "Fresh out of the sea, by the look of it. What can I get you, young man? There'll be more choice this evening when the ship is unloaded. We were nearly down to David's own Special Brew."
An elderly man raised a convivial glass in greeting with a toothless grin, at the mention of his own name.
"He'd say hello usually, but his new false teeth haven't turned up yet. We're hoping they're on this delivery. A seagull made off with the last pair, and Agnes won't share hers except on alternate Sundays when it's pot roast night. I'm Marjorie, my dear. You'll know everyone's names soon enough. What was it again?"
"Just, um, half a shandy," Jorge said at last, feeling deflated. They share false teeth here? Had he fallen through a time-hole somewhere at sea? "And, the usual for Jai Lee when she finishes work…"
"Ah, of course. You had help getting off. I meant your name," Marjorie smiled in a conspiratorial fashion. "What brings you here, eh? Friend, relative?"
"I'm, um…" He decided to stick with the rules and stay anonymous, no matter where or when Tristan da Cunha occupied in the Universe. "Umm, looking for a place called The Hawk's Nest?"
A jerking, hiccupping sound became a raucous coughing and spluttering as the toothless David laughed. Marjorie shook her head and folded her arms.
"Was it Ernest who called you here?" she asked.
"Ernest, yeah…" Jorge faltered.
"Ernest Scuttle? David, did you put him up to this one?"
David shrugged and chortled into his drink.
"What did he say he needed this time? A plumber? Electrician? Are you a chiropodist? He ordered a stripper for his nephew Colin's twenty-first birthday, you know. Didn't tell poor Jai Lee that the next boat back to civilisation was two months later. By that time she'd married Colin and she's been here ever since. The poor ear nose and throat specialist he invited over to look at his tinnitus - took a fishing boat and simply vanished before he could be picked up. Ernest, the silly fool, didn't know it was his drains whistling at night. It's both of them, him and David, they're a bad influence on each other. You'd be better off hopping straight back on board before he gets to you too."
"I believe he's expecting me," Jorge said, pulling himself together and taking his drink in what he hoped was a confident gesture. "Could you give me directions? I'm already scheduled back on this return trip."
He had already been paid a deposit, after all. Marjorie heaved a sigh.
"See through the window behind David? It's straight over yonder, follow the signpost."
Jorge found the door of the house ajar, as described it would be. The old man had said he'd be in bed after a large brandy, listening to The Planets Suite. Strains of 'Venus, Bringer Of Peace' filtered down the hallway.
The bedroom door was open, and Jorge crept in, mindful of Mr. Scuttle's orders to be as quiet as possible. The gun was on top of the old briefcase, exactly as detailed. He noticed a set of false teeth in a glass, under which was a note scrawled saying 'Had them all along, David. April Fool, ha ha. Your friend as always, Ernest'.
Jorge allowed himself a little smile, and picked up the revolver. He hesitated as he resisted the temptation to check the briefcase first, in case the noise disturbed Mr. Scuttle. But Ernest seemed to sense the movement by the bedside, and his eyelids fluttered.
Jorge froze, not knowing if the old man's eyes had focused on him before closing again, or not. But his wrinkled face settled into a peaceful smile and he let out a sigh, undisturbed.
Jorge held his own breath, waiting for his pulse to stop pounding.
After an eternity, the only sound in the room Holst's divine composition, Jorge slowly put the gun back down.
Ernest Scuttle had not taken in another breath. Gradually, the colour faded from his cheeks. The pulse in his temple, through the paper-thin skin, had ceased.
The old man had got his last wish. A dignified ending, following a large brandy, listening to his favourite music.
Jorge didn't check the briefcase.
"These are yours, I believe," he said, depositing the tooth glass and scribbled note in front of a startled David, back in the pub. "Marjorie. I'll have my usual, please, before I go."
"The old coot called you down here to return David's false teeth?" Marjorie remarked disapprovingly, rinsing out his shandy glass from earlier. "Shame on the man. That really has to be the last laugh."
"I think so too," Jorge agreed.
* * *
Jump to rest of site: Loads of random film-making stuff including original business plan, review of the Brussels International Film Festival, a screenplay (Heavy Duty) which later became the background story for Death And The City, lots of out-of-date links, and more stuff I used to pass the time between writing my first novel as a teenager, being a medical experiment, going to Uni as a mature student, qualifying as an ITEC therapist, trying out different martial arts, enjoying different jobs, and returning to novel-writing now as my main interest J
Move the mouse cursor over the up or down arrows on the right-hand-side to view the text on the main site - scrolling is automatic.
http://www.screenkiss.co.uk/front.htm
* * *
FLASH FICTION
<![if !vml]>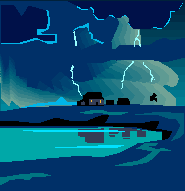 <![endif]>
…From the Authonomy Forum: © Lisa Scullard 2010
THE LAST OF THE MACHINES
The day finally came to dismantle the machine.
A new machine, designed by computer, was to take its place. Programmes had run demographics showing how the process could be more efficient, more streamlined, with less stages and fewer extraneous outsourced details. The new machine would be able to multi-task, analyse, redesign itself and change priorities spontaneously. It was self-monitoring, with internal repair and protect features. It was the ultimate machine ever designed by a computer.
The old machine was the most advanced piece of scrap now ever to have been relegated as outmoded. Specialist robots had to disconnect and recover vital components. Various heavy metals and crystal faces had to be separated and thoroughly disposed of.
Dismantling the machine and re-designating its mineral assets took 1000 years.
And then, under the orders of the computer, the robots dug tunnels deep into the Earth's crust, and stayed there. Heat, pressure, and tectonic shift did the rest.
On the surface, the new machine was born. It lived. It breathed. It functioned perfectly. It could replicate itself, communicate its needs, and network its resources.
The computer was satisfied with the result, and with the results of the various test programmes it ran.
Fortunately, the new machine would never know about its inception in the diagnostics of a computer, and the evidence of former machines was long gone, reduced to atomic debris. For that way madness lies.
And an endless stream of error reports.
Chief Inspector Lobotomy & Detective Hawking Mysteries: The Hanged Man In The Locked Room.

"Got a rum one here, Detective Hawking," said Chief Inspector Lobotomy. "Man found hanged in an empty windowless warehouse, locked and barred from the inside. Nowt but a few puddles on the floor. How'd he get up there?"
EASY, Detective Hawking relayed through his computer. HE WAS STANDING ON A BLOCK OF ICE.
"Bloody hell," said Lobotomy. "I'm glad I didn't waste time asking Detective Poirot."
The End.
...Er - talk amongst yourselves...
* * *
YOUR NAME HERE:
Want to join the list of suspects? Drop me a message with the address of your writer's blog or author website, and I'll check it out to ensure it's Voodoo-proof…
Shalini Boland & Shalini's Blog
<![if !vml]>

<![endif]>TR0UBLE07<![if !vml]>

<![endif]>
<![if !vml]>

<![endif]>FreeplayJukebox<![if !vml]>

<![endif]>
Robert Rowley: Blovel, & Photo Journal
And not forgetting…
* * *
<![if !vml]>

<![endif]>
Who I was supporting as a teenager…
<![if !vml]>

<![endif]>
Where I got some great work experience a few years later…
* * *
<![if !vml]>

<![endif]>
Avatar #9: Shadow Person J
* * *
<![if !vml]>

<![endif]>
BACK TO TOP
* * *
Footnote: I would just like to thank my huge, diverse, inspiring and supportive family for encouraging me to be myself, whatever I'm up to. Without them, I probably wouldn't be here. You all rock - words can't describe it. And for the lasting impressions and inspiration of those no longer with us… J
<![if !vml]>

<![endif]>
COOL BUTTONS BY…